I've been enjoying sock knitting on a very basic level. In the spirit of using what I have, I've decided to try to keep returning to patterns I own. Kind of like going back to your mom's Betty Crocker. A basic Anne Norling and a pamphlet from Jawoll with basic variants on toe & heel were both purchased a couple of years ago when I decided I could actually try knitting socks. Before I move onto some of the pretty socks in IK and the like, I'm making my third pair from the Norling (with the rounded toe lifted from Jawoll). I'd just begun the heel with great confidence, when LO, I discovered that I've been misreading the heel flap.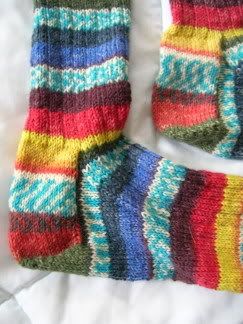 The error?
Sl 1, K across row. I slipped one and knit across the row. The close-up photo is of the erring heel. I was distracted by self-patterning.
The correct reading?
All of you seasoned socksters may sing along.
(Sl1, K1) across row.
The result?
That lovely dense self-reinforcing heel. (If the photo of the Mountain Wool Airport sock below weren't so dark, you could almost see it.)
It was rather like that gentle adjustment in a yoga class where suddenly you're actually aligned and the asana has a whole new AHA.
Nothing like plane travel for sock knitting. And nothing like plane delays for greater progress. For what should have been about 5 hours of plane travel each way, I started and finished one sock and started the second.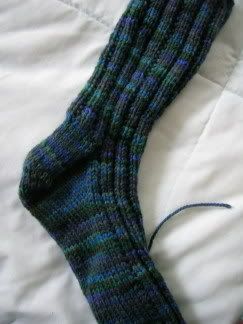 Reached my destination a day late, but I scored a travel voucher. (Once I was already into the second day of travel and staff looked for volunteers, I stepped up to be bumped.)
The gift yarn is working up beautifully. I'm playing with casein needles, this time, worsted weight, and a pebble rib. It's very pretty. Maybe my next photo will be truer.