Mittenfarce is a kind and generous soul. It's been such fun visiting with her through the course of this event. And in this sunrise photo, you may spy a bit of the splendor she sent.

Starting from the lower left corner and working counter-clockwise: Habu Paper Moire, handspun alpaca, Malabrigos merino, a rustic and decadent block of artisan soap, a package of tasty looking mix for beer bread (for which she covertly advised me yesterday to pick up a little Goose Island Summer Ale - which I did), a tube of rich hand cream, and a wine cozy she made. I haven't had anyone knit anything for me since grandma knit slippers and mittens for little girls.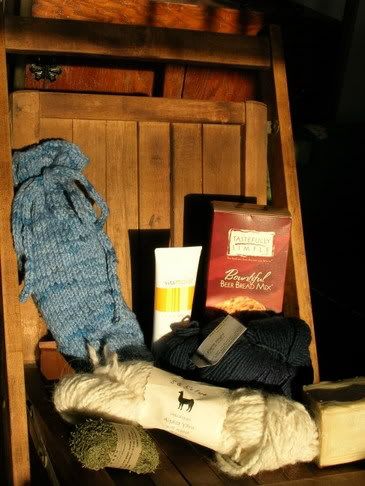 The beautiful soap block is very French, you know. You can almost spy some of the print here. Beautiful from all sides - and I was just about to go browsing the fine soap counter, too.