Summer brings an odd assortment of knitting whims and a lot less computer time. Both are definably Good Things, Martha. Yesterday I dumped a bunch of photos on le blog, planning to come back and identify properly later. At the time there WAS no time for scrapbooking. I had to go knit and have a margarita.

Friday's edits to the thumbnails (click on through)include labels and some forms of sentences. First up is the yarn art: beautiful seasilk from my kind knitty sp7 secret pal. I think she worried about this package arriving and suiting. It is JUST BEAUTIFUL, I gush again.



I started a hat for my niece, who had brought with her a great orange bag when she last visited. When I learned that this was the new fav color, I pulled out a lone hank of sale mercerized cotton. She thought a hat would be fine.



I moved along quite nicely on that hat and finished it within days.




I did finish and block the Steel Penny amalgamated sweater. I took a tacky mirror shot, but the light makes the abdomen unflatteringly poochier than I care to view it. It may BE that poochy, but I prefer to live in denial. (I'll take another walk tonight, in an effort to give some reality to that fantasy life.) Now I just need the right weather for the sweater. Just warm enough but not too warm. There is some wool in that sweater.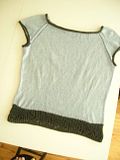 I also finished the jaywalkers. At last. Won't block them, as they're for wearing and not for gifting. I'm ready for more pattern experiments. Can't say I want to knit that pattern over and over. Will know more once I've seen how the sock wears.
Still, I was tickled by the oohs and ahs the socks in progress attracted. It IS a nice looking knit.



Did I mention that when I was on a road trip I took care to pick up a little Ben Franklin cotton for "just-in-case" knitting. This, too, was a good thing. It was just the knitting I needed when we took breaks from helping a family member pack.