The children who were to be given these, girls and a boy, I'm remembering, are long past toddler. Someone is interested in at least one of them to finish herself, so I'm posting some pics. Photography will be what it will be. This is the jacket that's mostly finished. This one has the mitten print flannel and maroon flannel. Sleeves are not for knuckle-scrapers. They were meant to have cuffs, rolled back and tacked so the blanket stitched edge would be a few edges from the rolled edge.
This is the back view. You can see where the blanket stitch ended. I think I was using a too-blunt needle for sake of a generous eye, and it bugged me. The appliques had enough webbed bonding to make stitching them a pain, and they're probably the real culprits. (Beyond life distracting me, of course...)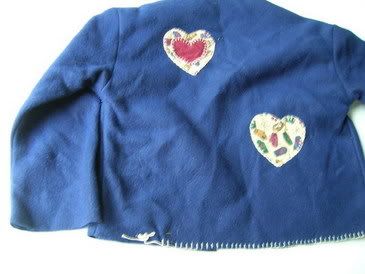 The 2nd navy jacket used a teal flannel and a flannel print with snow people and some sort of house. I seem to remember thinking this would be the LAST pocket with blanket stitch. The underarm/sideseam stretches haven't been machine stitched, as the applique was easier in flatter form.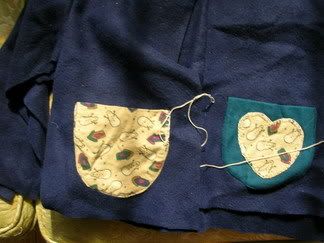 Grey, same ideas. Switched mittens to combine with teal and snowmen with maroon. Pockets were stitched and turned, but some of the pockets are only pinned into place and haven't been stitched. None of the garment seams are stitched, but many are pinned, and I can leave them that way.
Above you see part of the the back and front of one of the grey cardigans. I prepared a couple extra solid flannel hearts, but I had decided to cut them from the original plan.