During March, when I endured the first week of the evil flu that really hammered some of the adults in my circles, I worked on
pieces of a Boom Bag messenger bag
for one of my nieces. Her sister requested a bag of the same pattern, only with stripes and a flap.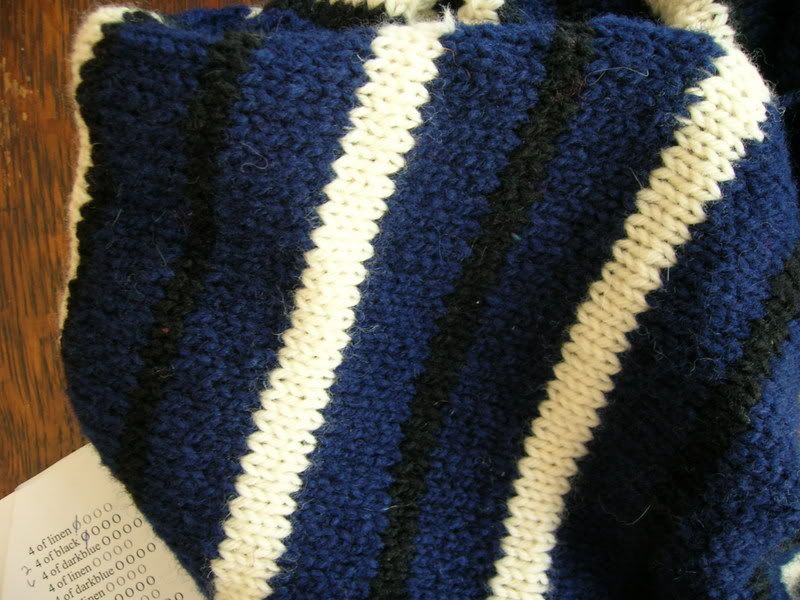 The navy is from a stash of Bartlett's I've had long enough to have moved across the country once and probably twice. It was meant to be a sweater.* When navy was requested, I decided the fates were telling me to move on from the sweater notion. I knit the underlying bag of navy and have saved the striped bit for the Boom Bag overlay, now with stripey flap. Okay, so you can't really tell it's navy in these pictures. Funny, seemed clear on the camera.
Similarly, the black is from all those bits of the UFO Maine Monster I frogged clear back in September 2006.** I purchased the offwhite. Imagine: I was out. Unfortunately, I didn't have my thinking cap tied on tightly enough. I purchased Cascade 220 - a fine yarn, but actually a little lighter a worsted weight than the navy or the black. The striping pattern utilized the ever famous random stripe generator. I generated the pattern at 4 row stripes and decided to play with the proportions by knitting all blue stripes for 6 rows, all ivory stripes 4 rows, and all black stripes 2 rows. Even kept the same number of rows: I counted to be sure I had the same number of blue and black, naturally.
And now this is off the needles. Only have to make the strap for this one. Then I must stitch together the pieces of both bags and we're off to the washer.
* eh, I was going to link text in here to the Stash post with the picture of the Bartletts. Not much of a picture, and that 1 April 2006 post is just too lengthy for loading. Didn't want to annoy anyone, so I've abandoned that.
** abandoned that link, too. I could find the post, but then I couldn't capture the permalink with out going back page by page. I think I need to find and to learn about installing more helpful navigating tools.