There's a paradox. Two greens that aren't green. One is a delectable deep brown indulgence of Green & Blacks dark chocolate with orange and spice. The other is an AbsBloomiNutely BeYooTiful hank of Handmaiden Sea Silk. Not your average bit of sea greenery, that.
I took a pathetic picture because I had the camera in the same place as the package from my wonderful knitty sp7 pal - and all of this was in the same location as the computer - and I was going to
have
to have a bit of that chocolate or Know the Reason Why.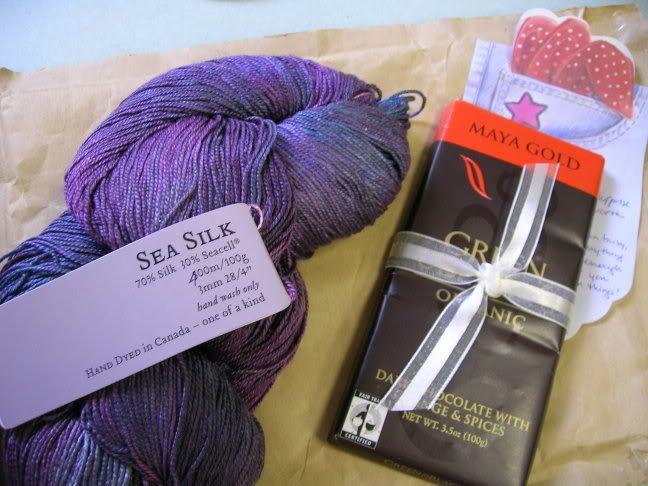 The color in this photo, as it appears on my screen, looks completely wrong. Too much colorific camera enhancement. It's beautifully subtle and rich, the real thing. Greys and silvers and plums and lavenders. I'll take a better photo at home, but this was the moment to be spontaneous, so here we are.
I feel delightfully indulged. What a treasure. And my pal mentioned that it smelled like the beach. She's right. Intriguing. What a fine mailbox find!