I've been bemused by the swoosh of activity to prepare for the
Knitting Olympics
. Nothing like a finite time-table for a creative challenge. Heck, that's why I like the regular rhythm of theatre tech weeks. I was hesitant to jump in, though, as I DO have a tech week that will overlap the first week of the Olympics.
What to do? Look for more athletic metaphors.
Yoga's my kind of athletic engagement. Hiking ranks there, too. I am a process fiend. So an
Eddie Along
is my kind of Team Olympic participation.
I'll be tackling, then, an abandoned sweater. This will be a sweater I started a good while back. It will be a sweater which had the challenge of an engaging process. It will have been put aside long enough that it has been moved into safe keeping - a plastic box or a large zip bag - and stored temporarily with the stash. I have four candidates. There's this bit of beaded
Cambio
,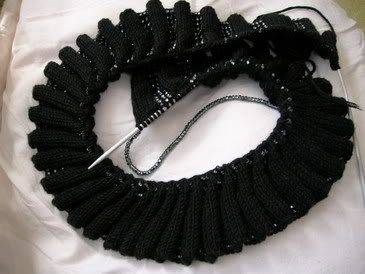 for which the knittyboard KAL has been deleted for want of recent activity. This photo was in May. I'm twice as far, or more.
There's
this monster
. Training will call for frogging and swatching. It may be an over-reach.
There's
this
little
friend
from the summer. I'd puzzled over
stripes
through chest, armscye, and sleeve, so I paused to puzzle more.
And there's an aran sweater of long-ago frogged for re-sizing delphinium blue Galway. The pattern has been lost in the boxes I must purge, through two moves, mind. I'm starting to lean toward using
this vintage Brunswick pattern
. This could be a mighty two week goal, but I'm worried about the time available in that one tech week.
In the spirit of the Olympic endeavour, I'll pick up with the flame and go for the 16 day stretch. In the spirit of Eddie-ing along, I'll enjoy the process and knit as I'm able.
Here's to all the teams and the pursuit of so many grand goals!