The photos should be click-through-able. This is a HUGE old post. Hope the smaller pictures make it better for loading.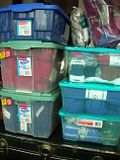 In a previous home, the knitting boxes were one stack, taller than I, in one corner of a three-season enclosed porch. This stack is in one closet.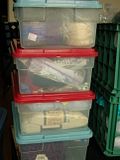 Another stack is in the closet across the hall....





...as is this stack. I'm not clever enough to put numbers on the photos to direct you to the contents. Besides, it's the contents that count. I might have skipped a box or a layer of box. Hard to say.



This box contains the maine monster, an unfinished Fassett-tile inspired experiment. A-frogging it may go.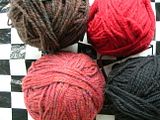 The wool itself was really Maine Wool, as I recall. Didn't have a Bartlett's tag. No labels at all, if I recall correctly.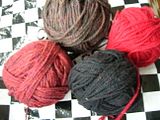 It's been stashed with this bag from a clothing shop on Canal Street in NYC.






Next up is an Irish box, after a fashion.



This aran knit is Tivoli aran. Bought it in Dublin, along with this pattern. Can I FIND the pattern? Not since the move...some years ago.



Irish Tivoli meets Patons Ballybrae, bought in the states, but My! it sounds Irish. Don't think that's made anymore.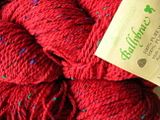 Have you worked with this yarn? I'm starting to think about it. Wouldn't it make a smart jacket?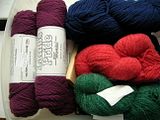 Another box of Maine Treats.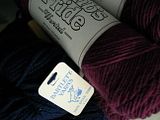 Bought a sweater's worth of each of these two, the plummy maroon Lamb's Pride and the navy Bartlett. Different trips.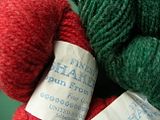 Bought these two squishable skeins while on a day off expedition when I worked in Maine.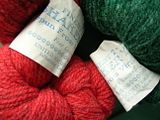 I just like to look at them.






Next up: a tub of fine finds and treats from others



From Art Fibers in San Francisco, here's a taste of a sweater's worth of gorgeous silk and a carry along kid mohair. (Maybe a blend? Info is at home.)



Also a hat.



Bought some sari yarn when shopping for my sp4. Bought one for her, one for me. And look! The glace I thought was going to be fringe on another scarf matches. Thank goodness. I don't think I'm suited to fringe.



Mittenfarce sent the Beatrice. Look! It picks up the flecks in the tivoli. I may reconfigure that Tivoli aran yet.



Other little tidbits and leftovers - including some handspun from E3cat. PS. I sent E3cat a note a month ago. Forgot until now to report that she's doing well, just crazy, crazy busy. She said to say hi.



These little yarn cakes I bought at School Products in NYC years and years ago - before I even knew what yarn cakes were. They were interesting, REALLY a sale, and I have no idea what I'll do with them. There are about a billion dozen strands, sort of "un-plied." I'll have to do a burn test.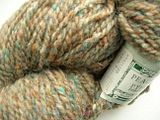 This peace fleece in Tundra is heading to saintjay. There's some Varya Fog elsewhere, but that sweater isn't technically done. Not done, technically or metaphorically or literally or wearable. (Raglan sleeves - joined in the round - are the current puzzlement.)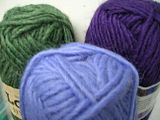 Lovely Lopi swapped with urbanpagan. I'm getting closer to figuring out what to do with them. (How's the mighty cone of chenille?)

On top of the tubs is a zip bag of some vintage worsted.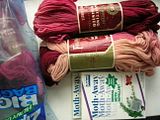 If I do the felting thing ever, I think this is a kid gift. A bag. The yarn is awfully unappealing in the hand.



Still, it looks like knitting memories....

There's a tub of mohair, leftover from a throw I knit a billion years ago. I should take a photo of that some time. Very groovy.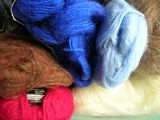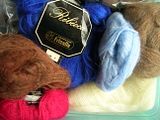 It's French!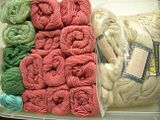 This tub has quite a bit of dainty vintage stuff.



Spring!



A yarn sale indulgence for which I hoped my color memory (or color creativity) would work.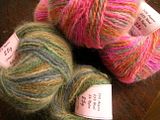 I do think these could work with the vintage things. Somehow. Maybe not ALL together, but SOME.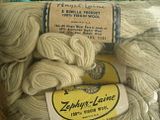 Dingy vintage destined for dyeing.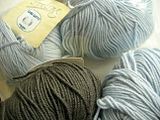 This doesn't live in the vintage box above, but right now I can't figure out where it lived before or after the photo sessions of the last days of March. Lana Gatto Feeling. A little summer top of light blue. And if not enough, why the grey might just be the necessary design element. Two different sale moments.






One tub holds leftovers of my own personally-aged vintage yarn. At the base is this leftover worsted wool. I made some hats for gifts. A ragg sweater for a gift. A fulled hat experiment when I lived in a house with a washer. Not an unqualified success, that hat. I left it behind in a costume shop.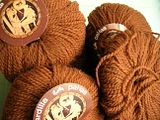 This was the one of the first itchy wool sweaters that I made for myself. This one I figured out how to wear DESPITE the itch, and I loved it to the ends of the earth. I am now too big (read middle-aged) for it. It was the first wave of the rolled neck and rolled hems sweaters, sort of a sloppy joe sweater. I have outgrown it, but it hasn't even pilled. I'll frog. Or diet. Meanwhile, mothballs. Oh, and plenty of leftover, six I think. What to do?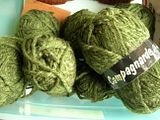 This is the green from the trim of my Favorite Knit Ever. It was meant to be a cardigan from an Elle magazine pattern. I didn't have enough, which I discovered before I was too far. This too is French.



I don't remember if this is the right tub, but here's some lovely alpaca from mittenfarce.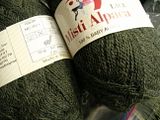 Similary, a little laceweight alpaca for taking that particular knitting plunge.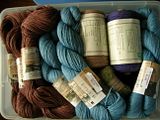 Tub of cotton & linen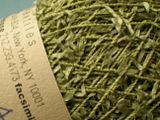 Hidden within is this bit of paper moire.



Loverly linen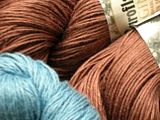 Can't get a clear photo, but still loverly...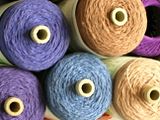 Some cotton linen warp for, oh, I don't know, card weaving? Or better yet, a basket


Cat came to inspect.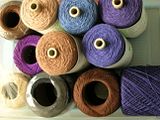 Yes, there is cotton crochet there, too.



A largish tub has some cones - one from School Products and several from a shop formerly near the British Museum.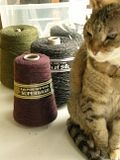 I had photo help.



You know, I had some of this. Made a scarf for a friend. Loved the color, not enamored of the knitting. Clearly the sale on top of the 30% off made me forget.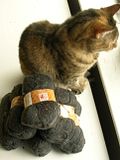 Also contained in the same box, a bit of fingering weight Tivoli from another trip to Ireland. Cat is assuming the "when will she come home" pose, in honor of the travel momento yarn.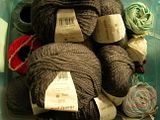 The rest of the Rowan chunky print lives here. Yes, enough for a sweater. And some miscellaneous cotton on either end.



This next tub has all sorts of little things. If the yarn looks ratty, it's because it was sale and I'm willing to deal with it.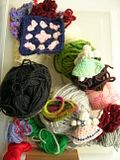 And at the bottom of the tub is the oldest of the knitting flotsam and jetsam. I made a lot of those little dolls once.






This is an embarrassingly big tub. It didn't have yarn in it a few years ago.



It's definitely full. I'll show you a few of the contents.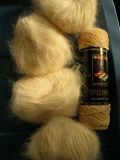 A little baggy of vintage angora and vintage... something.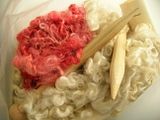 Practically right off the sheep. One was a pinkish red sheep.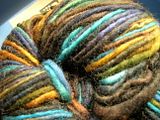 Bought some lovely manos for a sweater. Forgot that it was sunny the morning I took these photos with the golden glow. After a few mornings of grey day photos, I forgot to change the camera.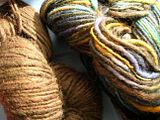 The brown is much deeper. And yes, there is enough of the two for a sweater. Hopefully only one.



These singletons are north woodsy reds: Wool in the Woods and Paton's Classic. Scarf. Hat. Matches the coat.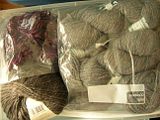 Peace Fleece tub will soon be EMPTY because I will soon FINISH that SWEATER.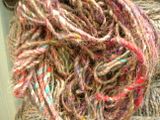 I wound a centerpull ball of this Noro Kochoran on a big needle. The last bit of it looks more like a birdsnest. This is the stuff I've worked into the Peace Fleece Sweater. This last bit will work through the yoke, once I finish out the Raglan Sleeve math, as referenced above.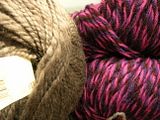 And there's a little leftover Rowan in there...and some stray Rowan Chunky Print in a steel grey.



Sock tub, saved toward the last for the sock inspired.



Here are the contents of the exploding sock tub. First, a quantity shot....



...followed by the close-ups.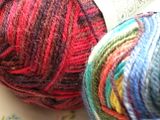 These were some of my first multicolored sock yarn discoveries.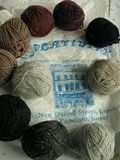 Bought these little oddballs in London. The shop is long gone, sadly.
First I thought they'd be part of a fair isle. Then I thought socks. They're living with the sock wools, but I'm starting to think about fair isle. Maybe.



Mountain wool Bearfoot, ready to start



Remnants and Reinforcements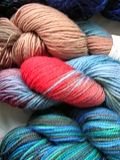 Some Lorna's Laces and a Cherry Tree Hill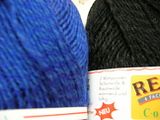 Regia cotton - used the black as a carryalong for sweater trim. Thought the leftover could head toward socks with the blue.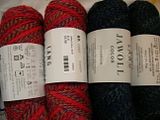 Ja! We have Woll!



Some clever yarn that wicks away moisture (Wick, get it,get it?)



Trekking. Yes, I know, one pair per ball. One's for me, and one's not.






A finale of sorts. This box has two sweaters in it. Really.



I frogged the galway. It was an aran, and I should have swatched more thoroughly and measured myself more carefully. Galway doesn't come in loose hanks anymore, does it?



This decadent pile of artyarns is a sweater. Really. I'm not kidding.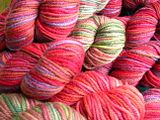 Sinful, innit?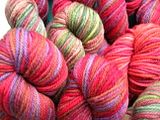 I ran out of time. You'll just never know what's in the crates. Just some spring sale shopping. And stuff.