I've cast on twice for
Brigitta
. I'm using some indulgent yarn from The Fibre Company - Pemaquid - I picked up from a sale basket. No surprise it's from Maine. Sounds very Maine. Since there hadn't been enough of the black heather (Starry Night, the name of the colorway)in the sale bin, I picked up what was on had of the lighter grey heather (Granite, that one).
So I'm launching into a very fast knit of a sweater. It may be abominable. Or I may not have enough yarn. But I've been agonizing for a few days here about what to knit. It's not matching all the other agonizing (what work projects for next year, blah blah), so I needed to step out and just DO.
As I said, I've cast on twice. I made a hasty swatch, figured out a hasty gauge, ripped it out and cast on. The garment would be the real swatch. After about 4 inches up from the hem of the garment (front and back in one), I realized my gauge expectations were flawed. I've started over. This is the type of yarn that blooms and grows at blocking.
I know I'd much rather have had this sweater all in one color, but I haven't minded the idea of the monochromatic contrast, so here goes.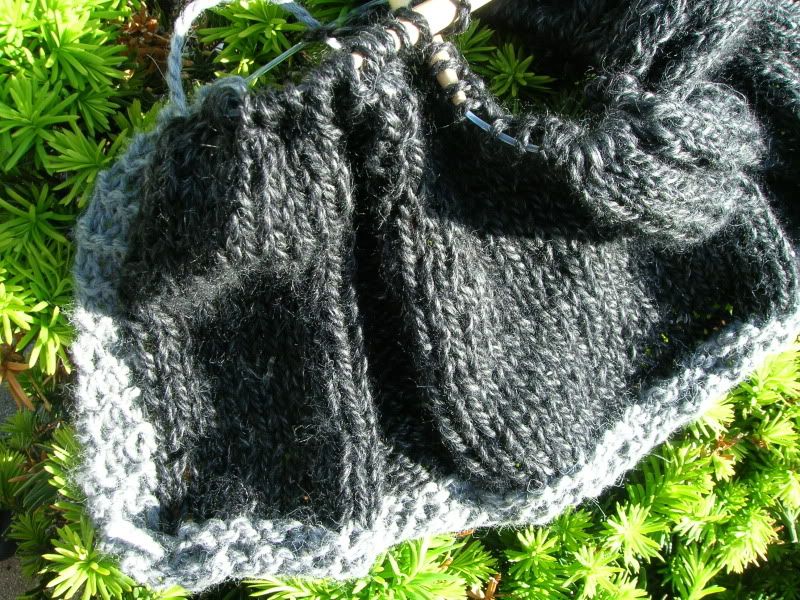 As a bonus challenge, the front bands are meant to be knit as the garment is knit. The "intarsia? not after that last ill-fated attempt" challenge is at least a mild one.
You know, it's just a sweater. I bought the yarn because I liked it - a blend of alpaca, merino, and soy, of all things. I wear black all the time. The contrast may be be a good thing. It'll leave fuzz, but I always have fuzz or lint or cat hair. It's the nature of my job, my surroundings, and my housekeeping.
It'll work or it won't, but I'm going to give it a go. Hopefully there's enough to eke out a sweater.