Holiday knitted gift #3 has been completed! This is a thank you gift for a colleague and friend who bailed me out one hot summer day when I had a shopping meltdown for a formal occasion.
Meanwhile, nothing like a little low-engagement clapotis knitting in a very pretty Manos Silky Wool to make one happy. Zipped this out in a week. A Week! Really. Finally set it out to block yesterday.
I changed nothing in my photo taking saving or posting, but for whatever reason, the last month's photos have been monster sized and won't conform nicely to the Blogger rules like previous ones have done (ie. large or medium). Therefore I give up and post the thumbnails. Click as needed.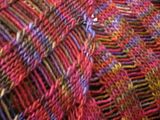 Promptly packaged it up and sent it off via the delivery service of her kind spouse, also a colleague.