I've been thinking about some long-lived and or long-ago projects.
Mistakes Along the Way.
Felt too critical.
Lessons Learned Along the Way.
Felt too preachy.
Short and sweet is what I've decided.
Besides, I don't think they're done traveling, yet.
This magazine. 1994.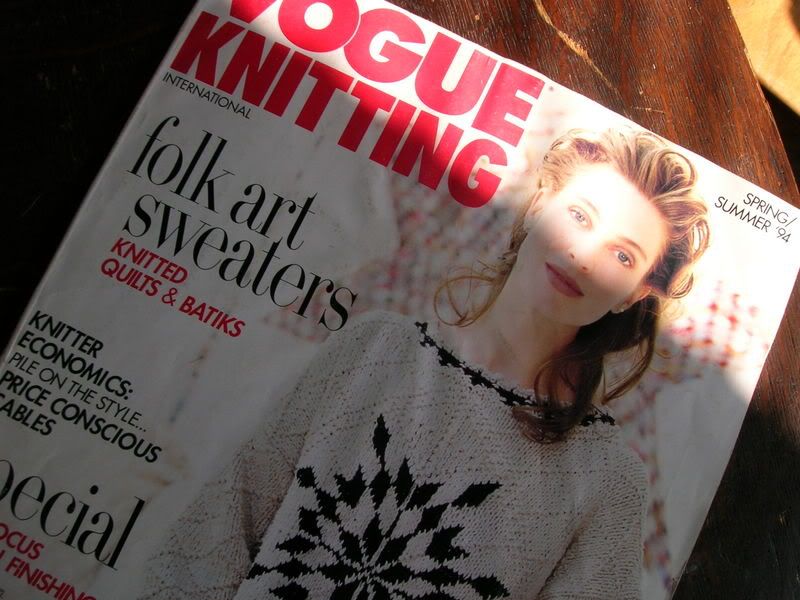 This pattern. Adrienne Vittadini.
A budget fit for a cone of Kitchen Cotton.
A few fitting problems. Overestimated how much I needed to lengthen the sleeves.
You know, of course, that there was NO drape here. It could stand alone.
I wore it anyway. It was loose, anyway. I took up less space.
And then I forgot and washed it RIGHT after the local municipality did one of the annual spring hydrant flushes. The stains are mostly gone, but I can't get them all out. Haven't decided what to do with this, but something needs to be done. Did I mention I made this within recent publication of that 1994 magazine? Yep. And did I mention I've moved away from that same municipality oh, several years ago? It has been in a drawer, awaiting some fate or sign of progress.
I thought about frogging, hastily dyeing, and using it for floor-rug fodder. I also came up with another idea this morning. I really shouldn't touch it, though, for awhile.
I just felt like posting its story. I used to knit with abandon. I learned stuff from it. I did a couple sweaters with a lot of cabling. It's not all the measly stuff I seem to be posting most of the time.
I must be hearing the siren call of the cable.
I'll have to stay strong for a little while, anyway.
I have a few other things to do along the way.