It's interesting to track where spurts of knitting start and where they lead. Interesting to me, I suppose. I'd been picking up some oddballs of Karabella's Aurora 8. It's a very soft, rather springy multiple of merino. I'd been picking up dark colors in the sale bins of a couple shops over the past months. Wasn't quite sure where they were going. Sunday afternoon I ran a bunch of errands in neighborhoods I can't get to during the rest of the week. Picked up a pair of shoes that I'd ordered. Stopped into a Trader Joe's. And I stopped at the yarn store to pick up the order of a book I'd been ogling. I caved under the pressure of a holiday weekend sale. I picked up enough yarn to make a sweater. Karabella, see above.
I used the Equinox pattern to estimate yardages. When I got home, after some judicious browsing through magazines and books, I decided I might give that pattern a whirl. I'll see if I regret it: there are clearly some changes ahead. Among the obvious changes are my combinations of colors - but I'm enjoying that swap. So far I've been pleased with the mapping out I did - a one to one swap that still follows the chart. I'm getting close to a few points where I may do some internal swapping.
So while the magazine obligingly sang the praise of the care with which the designer worked out just the right colorways, I've pitched that out the window. Well, not altogether. I still have a brown body, a few warmish and light colors - just a different interpretation. And of course, the yarn I'm using won't provide the obligingly fuzzy halo described. Don't care. This yarn is incredibly soft and feels like a luxury. With the boat neck, it will be important, I think. Of course the yarn is just a teensy bit heftier than the designer selection. Sorted out gauge to suit myself - even gave a swatch a bath. I think I've found a gauge that will get me a reliable size, even if the hand and drape might differ a bit from the sample sweater. That's okay. I don't need that much cling. It'll be a cozy and warm thing, which is ultimately what I'd associate with a fair isle type sweater yoke.
More importantly, in hopes of identifying the creative spurt of which I spoke above, I should mention that I've embarked on a HUGE project at work. Very demanding. Naturally, one would think I'd want to stick with my recent bus and train knitting. Not this child. I started on Monday with the sleeve so I could really get at the color work.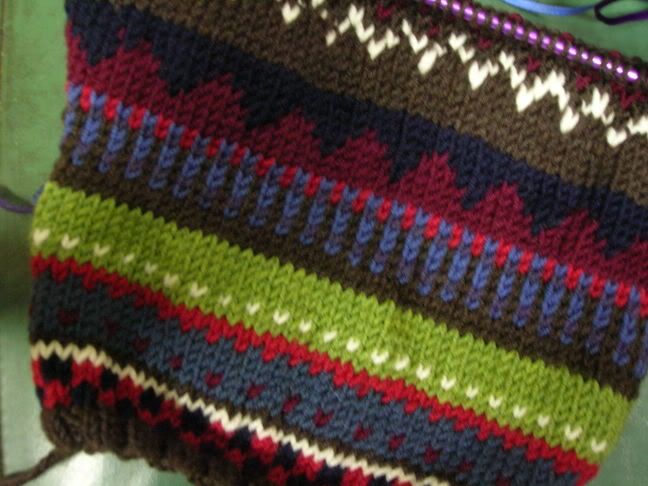 Could be worse for a late night fluorescent lighting photo at work.
I've already missed my earlier train. I'm leaving early for the last one. I'm sure that I'll be returning to my regular soporific sock knitting later on in the project. For now, my parallel project is the Equinox pullover.