29 December 2008
Will be absent for about a month. Traveling with students. Packing some knitting.

Have a happy and safe New Year!
11 December 2008
Holiday knitted gift #3 has been completed! This is a thank you gift for a colleague and friend who bailed me out one hot summer day when I had a shopping meltdown for a formal occasion.
Meanwhile, nothing like a little low-engagement clapotis knitting in a very pretty Manos Silky Wool to make one happy. Zipped this out in a week. A Week! Really. Finally set it out to block yesterday.
I changed nothing in my photo taking saving or posting, but for whatever reason, the last month's photos have been monster sized and won't conform nicely to the Blogger rules like previous ones have done (ie. large or medium). Therefore I give up and post the thumbnails. Click as needed.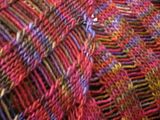 Promptly packaged it up and sent it off via the delivery service of her kind spouse, also a colleague.
05 December 2008
I can't decide which picture I like. One exposure better reflects the actual colors.
However, on my computer that one seems really too dark. This next one was taken with a different exposure. Neither photo is brilliant.
Yarn is Dream in Color Classy.
Color is Black Parade.
Pattern is Morningside Neckwarmer (Jared Flood's pattern)
Made this neckwarmer for an assistant when I had a set of bus trips - 8 hours at a crack - along with a good start on another gift. (That one's for another post.)
So naturally, when my brain can just about handle knitting a tube at best, I get myself painted into a corner wherein I have to make THREE hats by noon tomorrow.
I'm sewing them, at least.
STILL.
One more week and then the craziness I create will calm down.
I better go home. I have an a late night and a full morning of creative improvising ahead.